Grab your limes, grab your salt, & grab your friends – today is National Tequila Day!  We're sharing nine of our favorite tequila inspired cocktail recipes so that you can celebrate this fine holiday in all of its glory!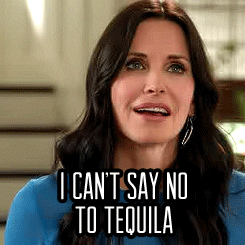 (GIF Source: GIPHY)
This twist on a classic Paloma substitutes champagne for more commonly used ingredients, such as club soda and seltzer water.  The slight sweetness of the champagne balances perfectly with the tart grapefruit while providing the refreshing bubbles that we all love so much!
(Photo and Recipe Source: My Sequined Life)
Ingredients (Yields 1)
3 oz. freshly squeezed grapefruit juice

½ oz. fresh lime juice (1 tbsp)

1 ½ oz. tequila

Ice

2 oz. champagne
Instructions
Stir together the grapefruit juice, lime juice, and tequila in a glass.  Add ice.  Pour in champagne and gently stir again.  Serve immediately.
2.  Juicy Vanilla Pear Margarita
This delicious margarita combines an unexpected fruity flavor (pear) with soothing and warm spices to deliver a flavorful cocktail worth sipping well beyond summer!
(Recipe, Photo, and Styling Credit: Lauren Lester (Wicked Spatula) for Best Friends for Frosting)
Ingredients (Yields 1)
4 oz. pear juice
2 oz. 100% agave silver tequila
1 oz. fresh lemon juice
Fresh vanilla bean seeds from a 3″ piece of vanilla bean
Drizzle of honey (about  ¼ – ½ teaspoon)
Pinch of cinnamon
Cinnamon sugar for rim (equal parts cinnamon and sugar or coconut sugar)
Instructions
Run a slice of lemon along the rim of a glass and then rim it in the cinnamon sugar. Fill the glass with ice.

Combine all ingredients except for the cinnamon sugar in a cocktail shaker and shake until combined.  Pour over ice and garnish with a slice of fresh pear or vanilla bean.
This tasty frozen pink drink is easy to make and sure to keep you cool all summer long!
(Recipe and Photo Source: Bourbon and Honey)
Ingredients (Yields 4)
5 cups diced seedless watermelon

1 cup ice

¼ cup tequila

3 tablespoons fresh lime juice

1 tablespoon agave syrup

Fresh mint for garnish
Instructions
Place the watermelon on a sheet pan and freeze for at least 1 hour, or until frozen solid.

Combine watermelon, ice, tequila, lime juice and agave syrup in a blender and blend until smooth.

Garnish with fresh mint leaves and watermelon slices, if desired.  Serve immediately.
This refreshing and silky smooth cocktail combines two of our favorite spirits – Tequila and St. Germain Elderflower Liqueur!  We love the distinctly floral twist that the liqueur delivers to this classic drink.  
(Recipe Credit:  Oh So Beautiful Paper // Photo Credit: Nole Garey for Oh So Beautiful Paper)
Ingredients (Yields 1)
2 oz. t

equila

1 oz. lime juice

¾ oz. 

St. Germain Elderflower Liqueur

¼ oz. agave nectar
Instructions
Add all the ingredients to a shaker filled two-thirds full with ice.  Shake well and strain into a chilled coupe glass or a lowball glass filled with crushed ice.  Enjoy!
5.  Summertime Rosé Tequila Sangria
Once upon a time, Tequila met Rosé and they lived happily ever after together in this summer-inspired Sangria.  This fruit forward drink is very simple to make and the recipe serves quite a few, so it's perfect for your next summertime gathering!
(Recipe and Photo Source: Half Baked Harvest)
Ingredients (Yields 8-10)
1 bottle Rosé

1 cup silver tequila

1 cup fresh lime juice

⅓ – 

⅔ cup agave nectar depending on your taste

2 cups fresh strawberries hulled + halved

1 cup sliced peaches

1 cup fresh blueberries

1 cup fresh pitted cherries and/or watermelon

2 – 3 limes sliced

Original flavored kombucha or sparkling water for topping

Basil for garnish
Instructions
In a large pitcher, combine all the ingredients except the sparkling water (or kombucha) and basil.  Stir gently to combine and then place in the fridge until chilled.

To serve, give the sangria a good stir, fill each glass with ice, and pour the sangria over the ice.  Top with sparkling water or kombucha.  Garnish with basil and edible flowers.  Drink up!
We love the bold look and subtle fruity/floral flavors in this fun margarita!  Don't let the dragon fruit intimidate you – the pulp of this vibrant fruit is similar to kiwi and will add great texture to the drink!
(Photo Credit: Leah Bergman for Style Me Pretty Living // Recipe Credit: Freutcake)
Ingredients (Yields 1)
2 oz. silver tequila

¼ dragon fruit, skin removed and cubed

½ oz. lime juice

½ – 1 oz. agave nectar (more or less to sweeten)

2 drops rose water

Sea salt for the rim (optional)
Instructions
Rim a margarita glass or tumbler with lime juice and sea salt (optional).

In a cocktail shaker, add dragon fruit cubes, lime juice, and agave nectar.  Muddle into a pulp.

Fill shaker with ice and add in tequila and rose water.  Shake vigorously until ice is broken down and margarita is well chilled (alternatively, you can blend the entire drink if you prefer a blended margarita).

Pour contents into prepared glass and garnish with a slice of dragon fruit.  Enjoy.
*Note: Sadly that pretty pink dragon fruit skin is not edible so make sure to remove it before eating.
This colorful cocktail is a delicious adaptation of the classic Moscow Mule.  The fresh strawberry puree offers a fruity sweetness to balance out the lime and the fizzy ginger zing from the ginger beer.  This recipe makes enough puree for about 8 cocktails. Plus,  it's super easy to prep the other ingredients in advance (minus the ginger beer) for effortless entertaining – just divide up the mixture evenly into your copper mules and top off each one with ginger beer when you're ready to enjoy!
(Recipe and Photo Source: Domesticate Me)
Ingredients (Yields 1, with enough puree to make 7 more!)
2 oz. silver tequila

1 

½ oz. fresh lime juice

1 oz. strawberry puree*

4 oz. ginger beer

Splash of club soda (optional)
*For the Strawberry Puree:
2 cups quartered strawberries

2 teaspoons fresh lime juice

2 teaspoons honey (or agave)
Instructions
Start by making your strawberry puree.  Place all the ingredients in a blender or food processor, and puree until smooth.  Strain through a fine mesh sieve and refrigerate until ready to use (you'll have a little more than a cup of puree, which is enough for roughly 8 cocktails).

Add the tequila, lime juice, and strawberry puree to a copper mug or tall glass.  Mix with a swizzle stick (or spoon) until well combined.  

Fill the mug/glass with ice.  

Add the ginger beer and a splash of club soda (if using), and stir to combine.  Bottoms up!
8.  Spicy Pomegranate Margarita
Who doesn't love a spicy margarita in the summer, am I right?  These vibrant beauts are not only stunning but they pack a delicious pomegranate punch that gives a nod to some of our favorite holiday flavors, making them perfect for entertaining all year round!
(Recipe and Photo Source: Freutcake)
Ingredients (Yields 2)
2 slices jalapeno plus more for garnish

4 oz. silver tequila

8 oz. pomegranate juice, sweetened

Juice of two limes

Kosher salt for rim

Crushed ice
Instructions
In a cocktail shaker combine jalapeno slices and a small amount of ice.  Muddle with a wooden spoon to break up the jalapeno.  Add in tequila, pomegranate juice and the juice from two limes.  Shake until well combined.

Rim two glasses with salt and fill with ice.  Strain margaritas into ice filled glasses and garnish with another slice of jalapeno.  Sip and enjoy!
9.  Lemon Thyme Tequila Spritzer
(Recipe and Photo Source: Tasty Kitchen)
We love the pairing of citrus and thyme in this crisp, effervescent cocktail.  Because the ingredients in this drink are so beautifully clean and simple, you can customize it with any herbs that you have on hand!  Out of thyme and no time to run to the store?  Use rosemary or mint instead – you won't be disappointed.  
Ingredients (Yields 4)
For the simple syrup:
1 whole lemon, zest only
3 sprigs fresh thyme
1 ½ cup granulated sugar
1 ½ cup water
For the cocktail:
4 whole lemons, juiced

½ cups silver tequila

3 cups club soda or seltzer water

4 sprigs fresh thyme, for garnish

4 slices of lemon, for garnish
Instructions 
For the lemon-thyme simple syrup:
In a medium saucepan, add lemon zest, thyme sprigs, sugar, and water.  Bring to a low boil and reduce heat to simmer for 5 minutes.  Remove from heat and let the syrup cool for 10 minutes.
For the cocktail:
Strain the syrup into a 1-liter pitcher and add the fresh lemon juice and tequila.  Add a handful of ice cubes and fill the rest of the bottle with seltzer water.  Stir well to combine.  Add ice cubes, 1 sprig of thyme, and a slice of lemon to a tall glass and top with cocktail.  Sip and enjoy!
Whether you celebrate with one (or all) of the recipes above, your own go-to tequila cocktail, or straight shots of the good stuff, we hope that you have an awesome (and safe) time celebrating National Tequila Day with your crew!  We'd love to know what your favorite tequila inspired cocktails are in the comments below.  
Now excuse us, we have some important business to attend to…
(GIF Source: GIPHY)